F.A.Q. – Frequently Asked Questions
Here are some common questions about how to use 32CountFitness.com Streaming.
Overview of how to use the system
How do I download music?
There is nothing to download.
Simply find the mix you want to listen to or play for your class. Select the BPM you want to play it at, click the play button.
Music will start playing through your device.
What is Streaming?
You may have played a video on YouTube. Played music on Pandora or Spotify. That is streaming. You click play and instantly start listening to music at the click of a button.
How do I Turn off calls and notifications?
When you're listening to music on your phone, it's annoying to be interrupted by an incoming text or email notification. Here's a look at a few ways to listen to your audio in peace on Android and iPhone.
Stop Notification Sounds on Android
Unfortunately, there isn't a universal fix for this on Android since there is a wide variety of devices running different versions of the OS. One thing you can do is set your notifications sounds lower or to vibrate.
Another solution is to install the app called Don't Pause. The free version puts the notification sounds to vibrate, and the pro version offers additional features. This allows you to still know there's a notification but won't interrupt the audio you're listening.
One of the caveats is it only works with Android 3.0 and higher. So, if you're still using an older Android device, you'll need to do it manually. I'd imagine there are similar apps out there that are similar, or, depending on your phone's manufacturer, it might have a built-in software solution. If you know of one, let us know in the comments section below.
Stop Notifications Sounds on iOS
On your iPhone, the easiest way to disable the audio dropout annoyance is to flip the mute switch on the side of the phone. Or, you can turn on the Do Not Disturb feature. Swipe up from the bottom of the screen and tap the crescent moon icon to turn it on or off.
By default, it will only work while your iPhone or iPad's screen is off. To configure it more granularly, go to Settings > Do Not Disturb and you can set it to what works best for you.
That's all there is to it. If you're tired of having notification sounds interrupting your audio listening experience, these tips should help you out.
Where do you get your music?
You have seen all the music at InstructorMusic.com right? Everything you see on Instructor Music is also at 32CountFitness.com. That's right all 400 plus mixes all from Original Artists, are on 32CountFitness.com.
Incorporate Music into your Zoom/Fitness Class
How do I update my payment information?
Once you are logged in, click on Account, then Subscriptions. Move your mouse to the Right, and you will see an Update link. Click or Tap that and you will be able to update your payment information there.
How do I cancel my subscription?
While we are sorry that you are leaving us, we understand that this system is not for everyone.
Once you are logged into your account, click on Account, Then Subscriptions, you will see your current subscription plan. To the right of that is a Cancel link, just click that, and your subscription will be Canceled. If you have remaining time on your subscription, you will continue to have access to the streaming until your subscription time runs out.
Sorry, there are no Refunds on remaining time for any subscription.
How do I save a particular mix, so I can play it again later?
To save a particular mix for playback at another time, is pretty easy. Above and to the left of the player, you will see a little drop down box, that shows 115. Click on that, select the BPM you want for that mix, then click the Add To Playlist button. Now that mix will always be in your playlist at the desired BPM.
How to Make iPad Shortcuts
2. Enter into the address field the URL of the website you want to create a shortcut to. Tap "Go."
3. Tap the icon featuring a right-pointing arrow coming out of a box along the top of the Safari window to open a drop-down menu.
4. Tap "Add to Home Screen." The Add to Home dialog box will appear, with the icon that will be used for this website on the left side of the dialog box.
5. Enter the name for the shortcut using the on-screen keyboard and tap "Add." Safari will close automatically and you will be taken to where the icon is located on your iPad's desktop.
How to Make iPhone Shortcuts
1 – Tap the bookmark icon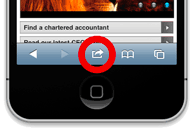 When you're on the page you want to create a shortcut to, just tap on the bookmark icon.
2 – Tap on 'Add to home screen'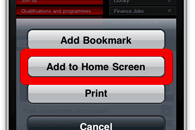 When the bookmark options appear, tap on 'Add to home screen'.
3 – Change the shortcut name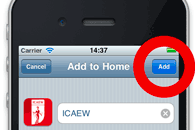 Edit the shortcut name to something you'll find easy to remember and tap on the 'Add' button.
4 – See the shortcut appear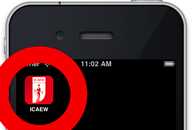 You'll then see a shortcut appear on your iPhone's home screen. Just tap on this icon at any time to open your saved page on our mobile friendly website.
How to Make Android Shortcuts
Create Homescreen Shortcuts for Websites
Creating a homescreen shortcut to a website is easy. If you're using Chrome, just navigate to the website you want, tap the menu icon at the top-right and then tap "Add to home screen."
Other browsers have similar functions. In Firefox it's pretty much the same process except the feature is called "Add Page Shortcut." Microsoft's Edge browser has the same feature.
Create Homescreen Shortcut to Bookmarks Bar
If you use Chrome, you can create a widget featuring all your bookmarks on your Android homescreen.
Just tap and hold an empty space on the homescreen. When the Options show up, tap "Add apps and widgets" and then scroll down to "Chrome bookmarks." This creates a resizable window with all your bookmarks on your homescreen.
How to Update Credit Card Information on File
     Once you are logged in, click on Subscriptions, then click on Update on the Right. You will be able to update your Credit Card Information right there. Once you have put in the Credit Card information needed, click on the Update Credit Card button to save the new information.
Still need help? Use the Contact Us tab, and send us your question.